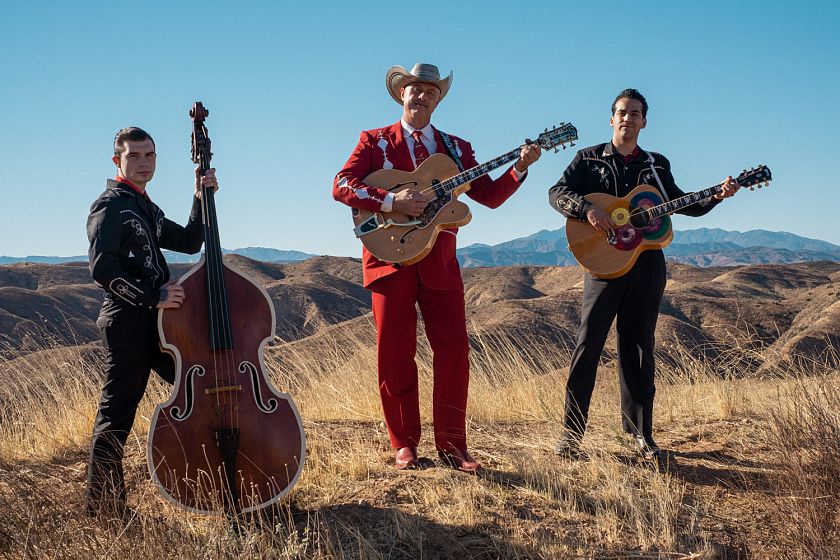 Deke Dickerson & The Whippersnappers
Deke Dickerson & The Whippersnappers
Deke Dickerson is one of America's musical treasures. As an entertainer and musician, he has toured the world and established himself as one of the foremost purveyors of roots music, headlining festivals from Las Vegas to Finland.
As a writer and music historian, he is well known for his regular column in Guitar Player magazine. He recently authored two enormous essay projects for Bear Family's Merle Haggard box sets. The one for Concepts, Live & The Strangers won an Award for Excellence in Historical Recorded Sound Research from the Association for Recorded Sound Collections (ARSC) in 2009.
As an entrepreneur, Deke has partnered with Hallmark Guitars to produce the Deke Dickerson model guitar, whose design is as unique as its namesake.
As a behind-the-scenes mover and shaker, Deke has recorded songs that have been featured in a variety of movies, TV shows, and radio programs, from the Oscar-winning movie Sideways to Johnny Knoxville's documentary The Wild and Wonderful Whites of West Virginia to the hugely popular XM Sirius satellite radio show Theme Time Radio Hour with Bob Dylan. For this last, Deke not only contributed background guitar music but was also interviewed and quoted by Bob Dylan.
Deke's latest project is his new studio album, King of the Whole Wide World. Like his previous albums it's a musical journey through the twisted roots of Americana, but this time the roots go deeper than ever before.
He comments, "People love to label me rockabilly, but that's just a small fraction of what I do. There are a couple of great rockabilly songs on the new album, but there are a lot of other styles as well, from bluegrass ("Boone County Blues") to Western swing ("Misshapen Hillbilly Gal") to Memphis soul ("Make Way for a Better Man") to doo-wop and rhythm and blues ("Itchin' for My Baby"). The title track ("King of the Whole Wide World") could even be called old-timey; it's a tongue-in-cheek, autobiographical song about being a rich man without the constraints of money or fame. I decided the song sounded better with some 78 rpm record noise dubbed onto it. Call me sentimental, but I really think music like that sounds better with a little grit."
For the recording process, Deke enlisted the help of the many friends he's made during his musical journeys. The core band consists of "Crazy" Joe Tritschler, the new guitar whiz-kid that has proved a fan favorite, as well as his old friends Chris "Sugarballs" Sprague on drums, Wally Hersom and Jimmy Sutton on bass, and Carl Sonny Leyland on the piano.
Guest artists include the western swing band the Lucky Stars, who back up Deke on the politically incorrect (but very funny) "Misshapen Hillbilly Gal," and Mary Huff of Southern Culture on the Skids, who contributes high harmony vocals on the honky-tonk number "Do You Think of Me."
All in all, King of the Whole Wide World proves why Deke Dickerson could be called the Renaissance man of roots music. Rising above the numerous revivalists and cartoonlike retro bands on today's scene, he has forged something new, exciting, and original, utilizing all the great American musical styles of the last century to take his musical journey forward, not backward.
Deke is, as always, on the road. Tours across the United States are being supplemented with trips abroad to Australia, Europe , and even Estonia! Perhaps the title King of the Whole Wide World isn't so tongue-in-cheek after all.
MORE ABOUT DEKE DICKERSON...
Deke formed Untamed Youth at age 17 in his hometown of Columbia, Missouri. The now-legendary surf-garage band released a total of eight full-length albums. In 1991 he moved to Los Angeles and joined Dave Stuckey to form the Dave & Deke Combo, a partnership that yielded two albums and a much-touted 2005 reunion at major rockabilly festivals. Embarking on a solo career in 1997, Deke was immediately signed to HighTone Records and released three albums for the label, touring nationally as a solo act and as an opening band for Cake, Mike Ness, and the Reverend Horton Heat (who has written on his website: "Deke Dickerson is the best rockabilly guitarist in the world!").

In recent years Deke has also toured nationally as a lead singer for the legendary instrumental band Los Straitjackets and with the great Western guitar-and-steel-guitar duo Biller & Wakefield. He has toured as a stripped-down rockin' three-piece band and as a swingin' rhythm and blues fivesome with saxophones and piano. On his many recordings, he has had guests as diverse as the doo-wop group the Calvanes and punk guitar legend Billy Zoom.

Playing an average of 225 shows every year throughout the United States, Europe, Japan, and Australia, Deke spends his rare moments at home with recording projects (he owns his own label, Ecco-Fonic Records) and writing articles and liner notes for music magazines and CD box set reissues.