Shot Club At Sea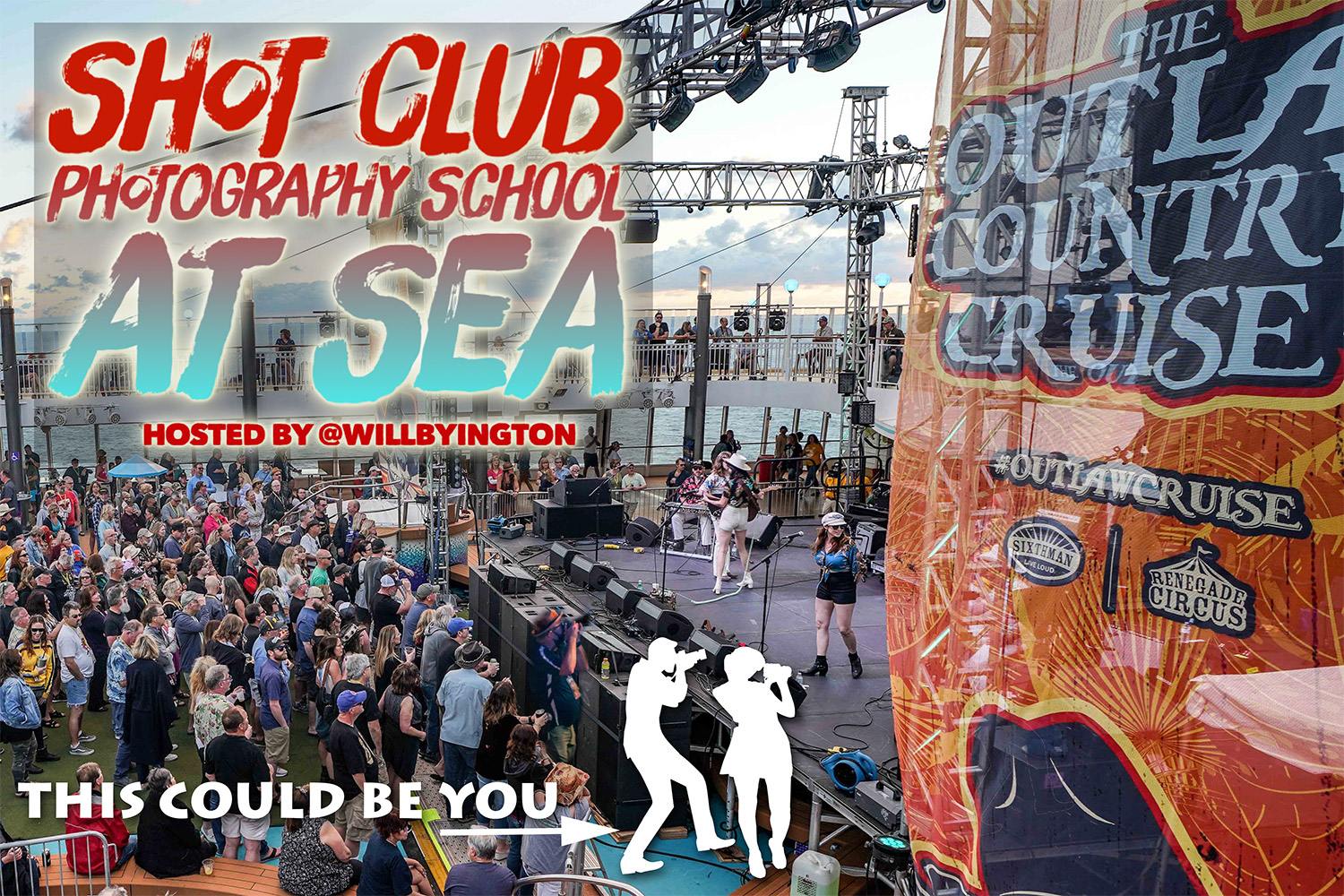 Our beloved event photographer, Will Byington, invites you to join his Shot Club Photography School At Sea! This one-of-a-kind experience is open to ALL skill levels of photography from beginners to advanced. It's a chance to take your photography to the next level!
For $599, you will get these experiences throughout the course of the cruise:
2 onboard classes to learn new tricks and techniques and review your work from start to finish.
Meeting on the morning of each sea day, the first time for an introduction to Will's work followed by instruction and tips/tricks to up your photography game.
The ability to photograph 3-4 artists from the photo pit in front of the stage*
Throughout the cruise, it'll be arranged for each member of the experience to be able to get right up front, between the barricade and the stage to photograph select bands from the lineup up close and personal. Limited to the first 3 songs by artist approval
Portrait photo shoots with artists from the lineup*
Over the course of the cruise, a minimum of at least 1 artist portrait shoot will be set up, providing the unique opportunity to use state-of-the-art lighting and create marketing/promo-ready shots while learning techniques and directly from the artists themselves about a successful promo shoot.
The chance to display and exhibit selects of your best images to the entire ship of guests*
Each day, members of this experience can provide up to 10 edited select photos to be included on the onboard photo display shown daily to the entire ship via in-cabin TVs. The best of the images will also be shared via social media from Sixthman.
This one-of-a-kind experience to take your photography to the next level can be yours for just $599 per person!
Contact Will directly with any questions at willbyingtonphotos@gmail.com.
Limited to 5 guests on a first come, first served basis. No professional equipment necessary, any camera or smartphone will work! Joining Shot Club grants Sixthman and the Outlaw Country West the rights to all photos to be used on event socials, website and promotional use across Sixthman events.

Log into your Sixthman account to join Will's Shot Club Photography School At Sea!


*pending artist availability and approval